I was born in Japan in 1942. I studied English and American literature at Meiji University. After graduation I began working with NHK-TV as a cameraman (for documentary). At first I filmed with 16 mm camera like Arriflex, Eclair ACL etc. After the evolution of ENG (video taping), I began using video camera until the end of my career. My favorite themes were creative people such as musicians (classical or traditional whatever), painters, novelists, stage actors, craftspeople etc. I have filmed Osamu Tezuka (cartoonist and animator), Hiroyuki Iwaki (conductor) , and Yehudi Menuhin (violinist and conductor) for one-hour documentary respectively to name a few.
I've played golf since I became a cameraman. As I was transferred to some TV stations, I have played golf around Nagoya, Chiba, Sapporo and Fukuoka. I have a website for Japanese golfers: 'Breaking 80 Diary.' It's a collection of swing, strategy and mental tips from over 150 books and 20 years' subscription of golf magazines. I?ve broken 80 many times but not every time. My quest continues.
From my high school days, I like classical music. Since I knew the music of Modern Jazz Quartet I also liked 50's Jazz such as Dave Brubeck Quartet. When MJQ and DBQ came to Japan I went to their concert (in my university days).
I married to Barbara Wells; an American lady from the South. I retired from NHK-TV and came to Meridian, Mississippi. I realized that this city was the center of Civil Rights movement. I began visiting many historic places such as Topeka (Kansas), Montgomery (Alabama), Selma (ditto), Birmingham (ditto), Atlanta (Georgia), New Orleans (Louisiana), Philadelphia (Mississippi), Jackson (ditto), Little Rock (Arkansas), Memphis (Tennessee) etc. I have a website for Japanese people about those places: 'Historic Site Tour of Civil Rights Movement.' (Japanese).
I'm interested in cross-cultural aspect between Japan and America. I wrote some of my impressions on my website: ET's America Offline (English). I also have taught elementary Japanese to some adults with my original text book.
---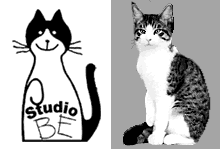 ibby the Cat. We named him after Okatibbee Lake in Meridian. The posture of our logo is of a Japanese Happy Cat. The bending paw (It's like to " Come in! " for Japanese people) is beckoning customers to our door (with their money. Heh heh!).

Please check out Tibby's Gallery.
---
[Japanese] [Welcome!] [Studio BE] [America Offline] [Hummingbird]
---
Copyright © 1996-2017 Studio BE
Address: 421 Willow Ridge drive #26, Meridian MS 39301 U.S.A.