Ryukyo Takano's Dream Hermitage
Calligraphy Gallery
Contents
---

Short biography of Ryukyo Takano
1902  Born in Ibaraki Prefecture, Japan. Real name is Eitaro Takano.
1941  Taught calligraphy by Gakyu Osawa, then Randen Tonomura.
1953  Served as a judging committee of 8th Ibaraki Prefecture Art Exhibition. He did it often later.
1954  Accepted for Nitten Exhibition (National Art Exhibition). He accomplished seven times in all.
1961  Won the grand prix of Mainichi Shodo Exhibition (seal-engraving category).
1972  Died.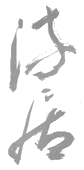 Please read "Memory of Ryukyo-san"
---
About Display of Artworks
Click any thumbnail on the left. A medium size image of the artwork comes up in the main frame. If you want to see its larger image, move your mouse pointer over it. Then it will enlarge and shrinks when pointer leaves from it. For this function, you need to enable JavaScript with your browser.
---
Memory of Ryukyo-san
by Nanchu Seki (from 'The Ibaraki,' July 25, 1974)
Our Great Loss
One year and eight months have passed since we lost Ryukyo Takano. He was a good walker, and had healthy feature such as long eyebrows, a sign of longevity. He himself wanted longevity and was proud of his health. Illness is dreadful. When he had a stomach complaint, had a surgery and then the doctors found a fatal disease. All the promises of longevity was canceled. He had gone at age 70 after only ten months' medical treatment. You know what? As a calligrapher, he just came to the ripening stage.
Ryukyo-san was born in Ibaraki Prefecture, a north-eastern of Tokyo. He worked for Joyo Bank until his retirement. He studied calligraphy from his younger days, and after the retirement he moved to Mito City (capital of Ibaraki Prefecture) and dedicated the rest of his life as a calligrapher. A lot of young and mature calligraphers gathered at his house day by day and were trained by Ryukyo-san. They were called as "Ryu-mon" (Ryukyo family). Their training hall had a wood engraved sign: "Dream Hermitage."
We, old calligraphers, also gathered at "Dream Hermitage." About ten of us started learning seal engraving and wood engraving together from the master seal engraver Shika Ikui. After ten years' study, Ryukyo-san was far better than others. We were amazed when he won the grand prix of Mainichi Shodo Exhibition in 1961 for one of his seal-engraving works.
He always looked for new dimensions of art and wanted to develop his own new artistic stage. In this aspect, Ryukyo-san had a navigator's attitude, which kicked our lazy butts all the time.
Though Ryukyo-san was good at all of the styles of calligraphy, his specialty, in my opinion, was harmonized works of Kanji and Kana. Small works on ancient poems with sosyo (running style) and Kana had fantastic rhythm and classical taste. I've heard that he had tried to copy the famous priest Ryokan's works when he was young. I believe such a zealous training worked fine for Kanji and Kana mixture. It made his letter and postcard writings very attractive as well.

Ryukyo-san was a good tennis player even after he reached retirement age. Also he loved trekking Japan Alps every summer with his two sons. I admired his energy. He had not only lived far-sighted and passionate about art but cared for friends and pupils with his humane nature. Ryukyo-san helped me for my personal problems time to time with his explicit advice and his prompt action. I still appreciate it.
He became a judge and a member of steering committee of Ibaraki Prefecture Art Exhibition since 1949. Also he became a central figure of calligraphers' society in Ibaraki Prefecture. He managed calligrapher group and assumed his house as an office for it. We started Annual Calligraphers' Exhibition mixing both the young and the old. It was Ryuko-san's idea. He worked for us behind the scenes and tried to help veterans and juniors as well. I can't thank his effort enough. Losing him is like we got a big empty hole in calligraphers' society in this prefecture. We terribly miss him.
(The late Mr. Nanchu Seki was a professor at Ibaraki University.)